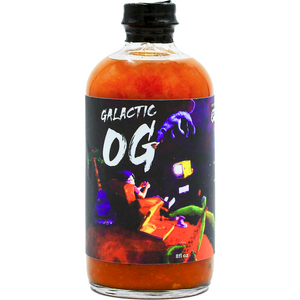 Galactic OG
The original recipe! This sauce was designed to be a perfect mix of heat and flavor, and is a perfect addition to just about every meal. The Fresno chilis give it a unique fruitiness; while the habaneros bring a little smokiness and solid heat. 
HEAT: Medium

INGREDIENTS: red wine vinegar, Fresno chili peppers, plum tomatoes, red onions, orange juice (water, concentrated orange juice), garlic, carrots, kosher salt, spices, habanero peppers
Delicious
I purchased a bottle of the OG sauce, the Hobo Kai sauce and the Hawaiian shirt office party and they are all great.
Not very hot but very tasty.
The Flavors!!
Me and my son both love hot sauce and these were perfect. The Galactic OG is definitely an all around great sauce because it's a happy medium. Not too hot, not too calm. Just the smell of flavors packed so much punch, Nevermind the taste. With all the ingredients being all natural this is definitely our new go-to sauce. I can't wait to try one with the heat up higher!
My husband really likes it! (it was for him)
I purchased the OG for my husband, who puts hot sauce on everything, and the pineapple for me, because I like a sweeter tasting sauce. He's hard to get a solid opinion from, but he finished it today, if that says anything! It was not our first time purchasing this sauce😉
Awesome sauce!
Just the right amount of heat and not a ton of salt. Great sauce!