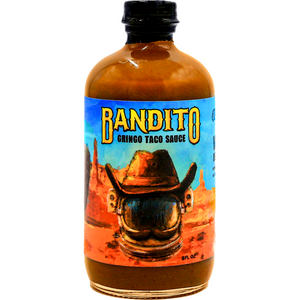 Bandito
The ultimate taco sauce. Features roasted habaneros and jalapenos for some heat and is supported by classic tex-mex ingredients. Perfect for any taco, burrito, or even huevos rancheros.

 HEAT: Medium
INGREDIENTS: apple cider vinegar, plum tomatoes, water, jalapeno peppers, garlic, lime juice, sweet onions, carrots, habanero peppers, spices, kosher salt, paprika
Wow Wow Sauce!
Well, ok. BETTER than Wow Wow Sauce. (Apologies to the wizards of Unseen University, but this sauce is indeed galactic.)
I bought some at the local farmer's market. I globbed a copious amount of it onto the burger I made for dinner, and seriously, this sauce is the best thing to happen to a burger. Ever. I can't wait to try it on other stuff. Epic Success!