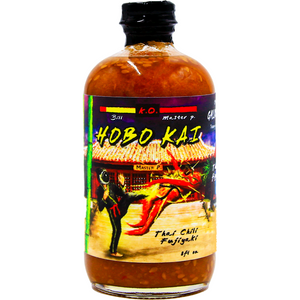 Hobokai
Lots of flavors kicking your taste buds. This sauce is inspired by teriyaki sauce with some added spice. It gets its sweetness from the Fuji apples, roasted onions, and honey. Then the garlic, ginger and orange zest aromatics hit followed by the Thai chili peppers saying "hi." This sauce is great in making stir fry of course. But also great on chicken wings and marinating meats.

HEAT: Low

INGREDIENTS: soy sauce (water, soybeans, wheat, salt, sodium benzoate (preservative)), rice wine vinegar, Fuji apples, roasted sweet onions, mirin (glucose syrup, water, alcohol, rice, corn syrup, salt), garlic, pineapple juice, honey, ginger, sesame seeds, Thai chili peppers, orange zest
Contains: soy, wheat

One of the best flavored hot sauces ever!
I've done all the Hot Sauce festivals and shopped all the top of the top, and Galactic Hobo knocks them all out of the park. The OG is perfect, and the Hobokai is perfect plus.
So good!
Elevates anything it's on, especially meat. Pork, beef, chicken, I could put this on anything. Garlicky teriyaki taste with a hint of spice that isn't overwhelming.
REALLY GOOD
i got this sauce during this food truck/craft vendor event in enfield, and I have no regrets in buying it. Its really good, especially with noodles (I especially enjoyed it with pho noodles). The only regret I have is buying only one bottle, because its been three days and because ive added it to every noodle bowl ive eaten, i have run out.
Awesome sauce!
Not too hot..not too lame. Perfect spot in the middle with huge flavor! Perfect!